Sticking the furniture right against the wall comes naturally to all the design amateurs. But if you ask any professional interior designer, you will see how petrified their reactions would be! As a rule of thumb, every furniture should float in the room. A piece of fitment touching a wall is a BIG NO-NO! One of the biggest interior design faux pas is placing the furniture dead against the wall.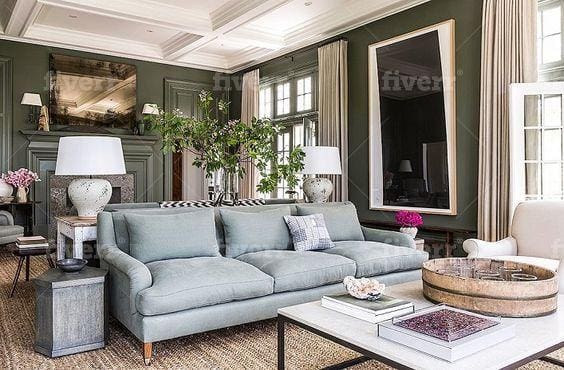 But rules are meant to be broken right? There are definitely some situations where you can bend the rules creatively to make the room look more aesthetic. For instance, a console table stuck to the wall with stunning artwork can look great!
So, are you confused about the furniture arrangement of your living room? Want to give your current furniture layout, a quick and posh upgrade? Well, here we have rounded up some tips and tricks on how to create a welcoming furniture layout for your room. Stay tuned!
Disadvantages of Placing the Furniture Against the Wall
Let's start with some reasons on why top interior designs refrain from shoving the furniture right against the wall.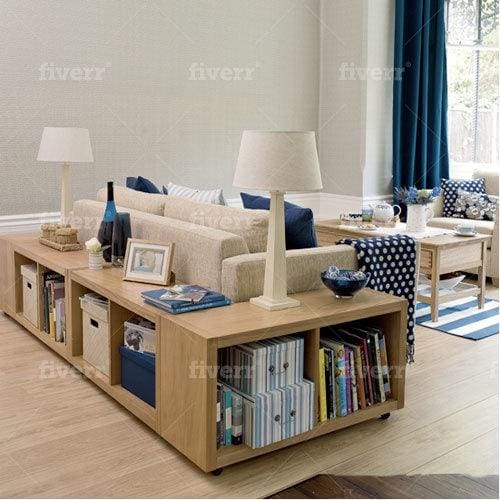 1. Creates Negative Space
While you may think installing the sofa to the wall gives you ample space in the living room, it is not the case always. For small living rooms with space restrictions, this might be an ideal layout. But for bigger rooms, a sofa set up against the wall often occupies a limited area of the room and creates dead space in the rest. This living room arrangement leads to a visual imbalance and you may end up using only a fraction of your room.
2. Does Not Allow Comfortable Conversations
There is no other pet peeve bigger than people sitting far away and talking in a high pitch. The seating arrangement of a living room acts as a catalyst for conversations. So, make sure the couches are placed close enough to make space feel more intimate and connected.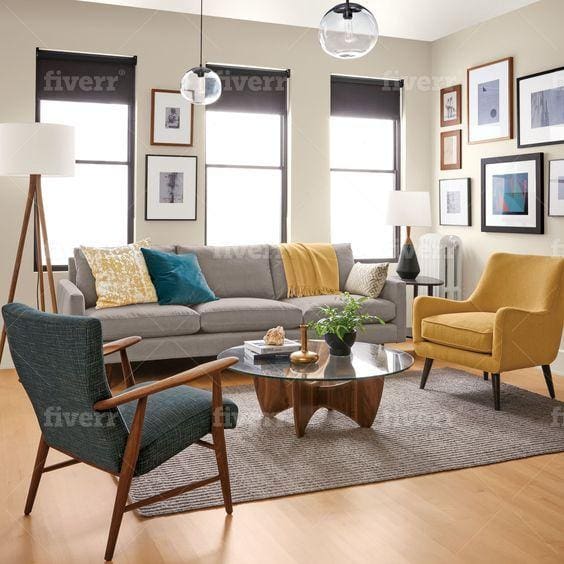 Does Not Let the Architecture Speak
Furniture items placed right against the wall often block the architectural features and overshadow them. Ideally, interior space must be designed in a way such that it enhances the space further. Floating furniture allows architectural elements like windows and fireplace to take a lead. These elements then become the focal point of the room instead of furniture pieces.
Why Should you Let the Furniture Float?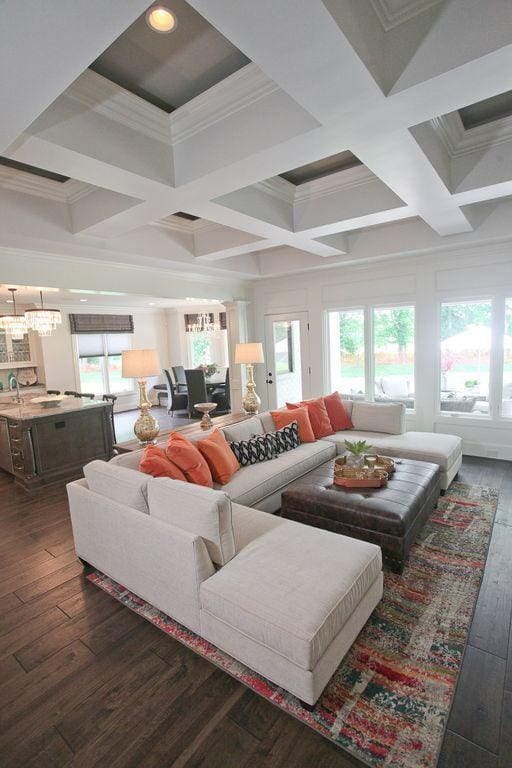 When you slide the furniture away from the wall, it makes the room look more spacious and lighter. Such a furniture arrangement encourages discussions and conversations. With more space around, the room feels more accessible with regulated traffic flow around the furniture. Additionally, an empty wall automatically makes you want to 'use' that space!
Many people think this rule only works for bigger living rooms with open plans and a large area. On the contrary, even small living rooms end up looking generous with floating furniture. Pulling furniture away from the wall even by a few inches creates spatial dimension, character, and a better focal point. Instead of leaving walkable space behind the sofa, only leave space for wall art or console table and you will instantly notice how your room looks more 'put together'.
How to Create a Balanced and Proportional Floating Furniture Layout
1. Create Area Zoning
While dealing with large spaces, furniture arrangements can be daunting. Don't fret it out, just create virtual zones in the living room. For instance, you can divide the area for seating, reading corner, dining area, and so on.
2. Pick an Optimal Size of Rug
Rug placement is a tricky business. Anything too small or big can kill the vibe of the room. Arrange furniture such as sofa couch, armchairs, and ottomans within the carpet space. Even if the carpet is too small, at least two-thirds of the furniture should be placed on the carpet.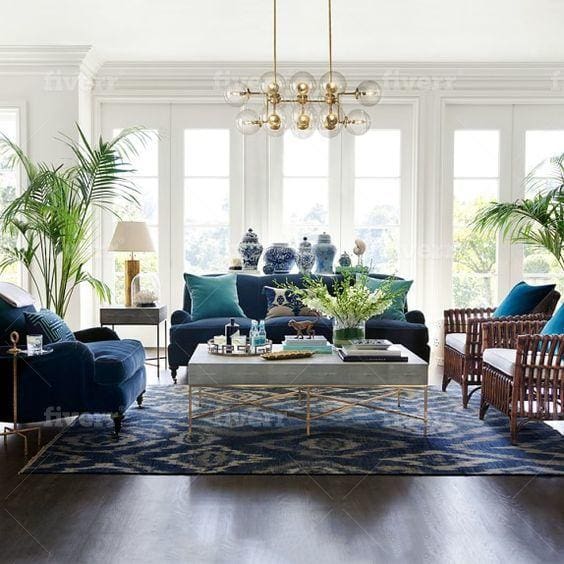 3. Select the Right Furniture Scale
A large couch in a small living room will feel like an elephant whereas a small sofa in big rooms gets dwarfed. So, make sure the size of the furniture is proportional to the room. For small rooms, scale down the furniture items and avoid using chunky oversized furniture.
4. Add a Focal Point
The focal point in a living room can be an architectural element like windows or a massive piece of artwork. Decide the focal point and build the furniture around it.
5. Consider Space Constraints and Efficiency of Traffic Flow
It is okay to bend the rules if your space doesn't allow you to experiment with the furniture layout. Even you have no other choice but to place your furniture against the wall. However, understand the movement in the room and the traffic flow to maximize its space utilization.
6. Tables must be Close to the Couch
In larger rooms with big couches, the ends are usually far away from the coffee table. In such cases, it is important to have side tables for comfort and convenience. Try to attain a conversational space in the seating area that is warm and inviting.
7. Support the Sofa with Tables
Place fancy tables and shelves around the sofa. You can decorate it with plush flowers, figurines, and some books. Place a couple of ottomans or stools around the sofa and you are good to go!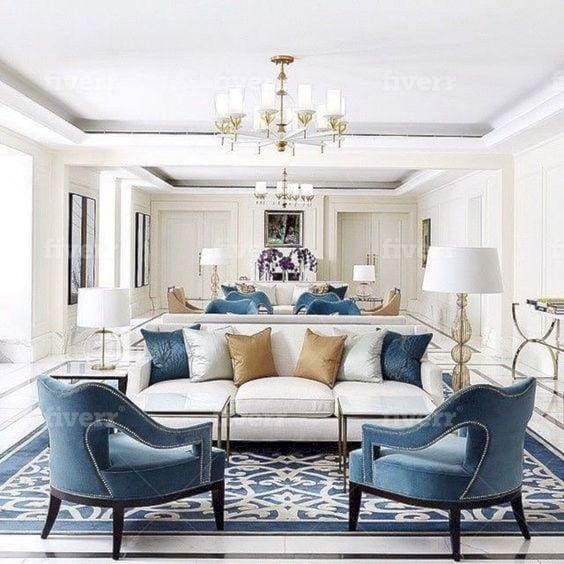 How to decorate empty wall space with floating furniture
Once the furniture is off the wall, there are endless possibilities with its decoration. With the wall freed up, there will be ample space for additional storage such as beautiful bookshelves, cabinets, or TV units. You can make this as a statement wall with creative shelving spaces. Furniture pointing towards TV units look cohesive.
Alternatively, you can turn the empty wall into an art gallery by hanging breath-taking wall artworks. With so much space in hand, a feature wall will add a charm to it.