Affordable Art for Interior Spaces
Give your home and work
spaces an instant makeover
with wall art decor
Affordable Art for Interior Spaces
Give your home and work
spaces an instant makeover
with wall art decor
Create beautiful scenes in your space with wall art
Ready-to-hang framed digital art prints
How to Use Wall Art in Home Interior Decor
A sassy wall art design will instantly glam up the style quotient of your house.
READ MORE
Planning a virtual wedding?
Go digital and download
invitation cards for only $5.99
for your email announcements
Instant Wedding Invitation Cards
Create & download or let us print
Enjoy 35% Off
New design offer for the
Herby Frame Wedding Stationery
Use Code: HERBY35
SHOP NOW
$10 minimum spend
Paperless Wedding Invitations
We help to email out wedding invitations to your guest list. Emailing out your wedding invitations does not only save paper, but it helps to ensure that your guest list receives your announcement.
EMAIL SERVICE
Our Customers Are Loving It
"I had a very wonderful experience and Nealda is awesome. The items were so well packed, good quality tags/ribbons and delivery is speedy too. Thank you Gift Elements for being a part of my Big Day! Looking forward to more product offerings! All the best :)"
~ Gina Lim ~
Singapore
Browse, Personalise & Buy
Take your time to look through our available designs. Pick the one you like and personalise online. Select the product size and shape. Add your names or favourite sentiment, and the event date.
Download & Print
Personalize the design, download the image or PDF, and have it printed at home or at your local printer shop. Or let us do the printing for you. This way our designers will apply professional editing to make your design look perfect.
Print & Deliver
All our printing is done on premium quality paper. Don't worry wherever your address is in the world. This is because we do international worldwide shipping and will deliver your lovely stationery to you.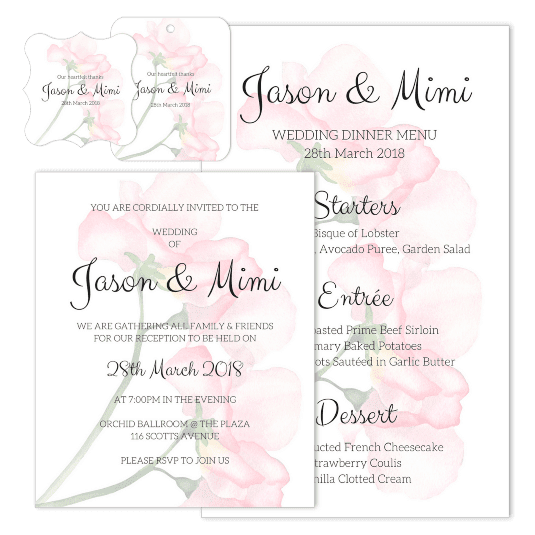 SIGN UP TO RECEIVE A
FREE WEDDING SAMPLE SET
Includes matching invitation card, menu card, gift tag and gift sticker
GET A 20% DISCOUNT VOUCHER
when you sign up for email updates to receive the latest offers and products.