For price inquiries about this fine art, please contact us.
Object: Painting
Artist: Aaron Gan (1979)
Origin: Singapore
Title of artwork: Rowing Determination
Year Painted: 2015
Technique: Watercolour on Paper
Signature: Chinese stamp signature
Condition: Excellent
Dimensions: 760mm by 280mm
Verification: Artist's Certificate of Authenticity provided
I am always in search of inspirational fine art pieces that speak to me and resonate with wherever I am in life at that moment. The budget is open, meaning I swipe my credit card readily on a vision that grabs my soul and remains in my thoughts for days. This was exactly what happened when I saw this watercolour masterpiece by Aaron Gan called Rowing Determination (2015). I stopped in my tracks … it was love at first sight.
It's a long piece measuring 76cm by 28cm hung on the gallery wall. The bottom of the painting was hovering about 50cm above the floor. I am not very tall so my line of sight fell on about the centre of the painting. What particularly caught my interest was the red figure rowing a wooden boat emerging out of the bottom right corner of the painting. My brain immediately associates the blue globs with water as if the boat was on a river, lake or the sea. And yet, the boat seems detached from the rest of the painting. A realist's boat and its rower floating in an abstract body of water globs. Realism and abstract, 2 different styles co-existing in one painting.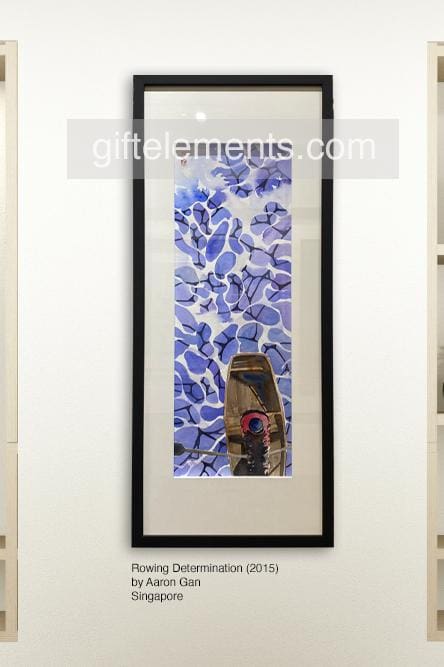 I could sense the exact motion of the rower as he rows the boat backwards. His arms are pushing the oar grips downwards and forward raising the oars above the water surface. His exposed back shows that he is bending his torso in a forward motion. Judging by the obtuse angle of the oars, they have just been lifted off the water in a sculling motion. There is so much movement in one little area. Despite this, the boat looks like it is levitating above the water globs. Effort and effortlessness co-existing in one painting.
The water depicted in this globular form seems to be moving in some sort of mercurial flow in the direction of the boat. The globs are more sparse further from the boat and congregating together closer to the boat. They seem alive gliding, bulging and shape-shifting towards the boat like amoeba. The water lines of reflection are painted in black and fragmented by the discontinuous globs.
This painting was completed in the year 2015. My thoughts are I am now where the artist was in 2015. Coming out of a corporate career to grow a business. In a landscape already filled with existing businesses, I am an emerging player in my little boat and rowing against the currents. An abstract body of globular water does not offer any certainty. Every opportunity must be investigated for relevance and there is no guarantee that any close analysis will lead to a favourable outcome. The movement of globs towards my boat and their increasing density only creates opposing forces and friction to my progress. Every action weighs heavily on the mind and body. The discontinuous globs represent numerous dead-ends where there is no water and my boat risks getting grounded.
From the corner of the painting, the emerging rower looks like he has a long way to go. But a positive mind fuels the muscle and sees the stretch of water ahead not as a metaphor for an insurmountable distance but as the much coveted destiny. The oncoming globs are not obstacles but destiny itself presenting itself to the rower giving an illusion that the desired destination is within reach. As it is in running your own business, achieving your goals is most times about possessing the right mindset, creating a vision of success and selectively take action that brings that destiny closer to us (and vis versa).
According to the artist himself, "the man rowing symbolises determination and courage to explore new frontiers (beginnings). I painted the water a light shade of purple instead of the usual blue to symbolise new exploration and trying new things". In my opinion, the use of boat and water in this imagery means more than determination and courage. To me, it is about conquering the odds and becoming a master of one's own destiny as did the ancients when they crossed oceans to seek new lands. Ships and seafaring capabilities of civilisations have always been symbols of power and might.
When we are running a business, we are indeed admirals of our own fleet with a swashbuckling spirit. On this note, I take the reader back to the beginning of this article where we started with a small wooden row boat and perhaps one day we can look upon our own armadas with pride.
About the artist:
Aaron Gan is Singaporean born in 1979. He earned his Bachelor of Commerce from the University of Western Australia in 2003 and placed on the Dean's List. In 2003, Aaron left his corporate career to pursue a profession as an artist. His work are a constant sell-out.
Gan's artworks have been collected and commissioned widely both in Singapore and internationally. These include The Prime Minister's Office, The Ministry of Foreign Affairs, National Library Board, GIC, Wheelock Properties, Julius Baer, The Association of Banks in Singapore and others.
Achievements
2015: UOB Painting of the Year, Gold Award, Established Artist Category, Singapore winner.
2016: Aaron's painting "Balestier Road" was presented to US President Barack Obama.
2017: Collaboration with Nespresso on a regional media campaign spanning Singapore, Malaysia, Taiwan, Hong Kong and China.
2018: Appointed the Art Ambassador for Faber-Castell, Singapore.
2020: Worked with Castiglion del Bosco on their exclusive Zodiac wine label.