Sign up here to become our wholesaler for gift tags and sticker labels.
Create a crafting challenge for yourself using gift tags. Don't just hang them from a string. There are many ways to attach gift tags to turn your gifts into conversation pieces. Gift tags offer a simple way to decorate your wedding favors too.
Using gift tags is such a simple and great way to decorate your gifts. Plus you can send a short heartfelt message on your gift tag instead of using a bulky greeting card. The easiest way to attach a gift tag to a gift box is to hang it from a string. But we want to show you more creative and fun ways to do that.
We also want to demonstrate how a little bit of crafting skills can add enhancements to the gift tag. Just watch the video tutorials we have created below.
1. Nutella Mini Jars and Ice-Cream Sticks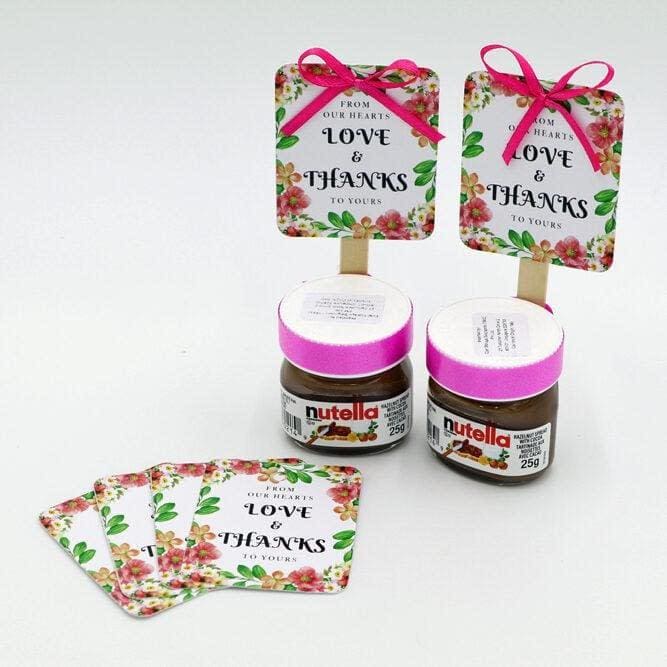 Mini Nutella jars or mini jam jars are great party giveaways for both birthdays and weddings. Nutella is such a popular brand and is itself an attention-grabber. You can literally taste chocolate in your mouth at the sight of a Nutella jar. So make sure the gift decorations do not get in the way of the brand novelty.
The gift tag is propped on an ice-cream stick and stuck to the back of the jar. This way the sentiments on the gift tag and the product brand will complement and not compete with one another. Add more style by decorating with ribbons and bows to complete the look.
2. Stick the Gift On The Gift Tag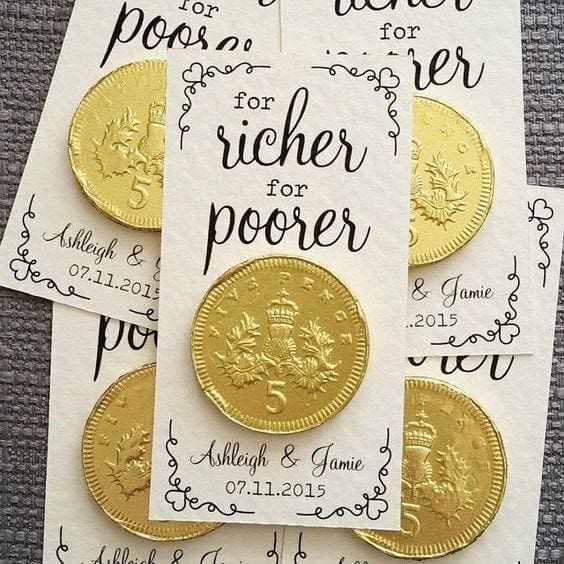 This idea is an interesting take on role reversal. These days role reversal in a marriage is totally normal. But what if a gift is attached to a gift tag instead of the usual other way round? Now that's innovative. It's such a clever way to add dimension to tiny gifts like these single bites of chocolate or even teeny mementos.
Make sure the gift tags are made of sturdier card stock so they don't sag or bend easily. When presented as party favors, tie the gift tags to glassware or cutlery so they don't get tossed around.
3. Layering Gift Tags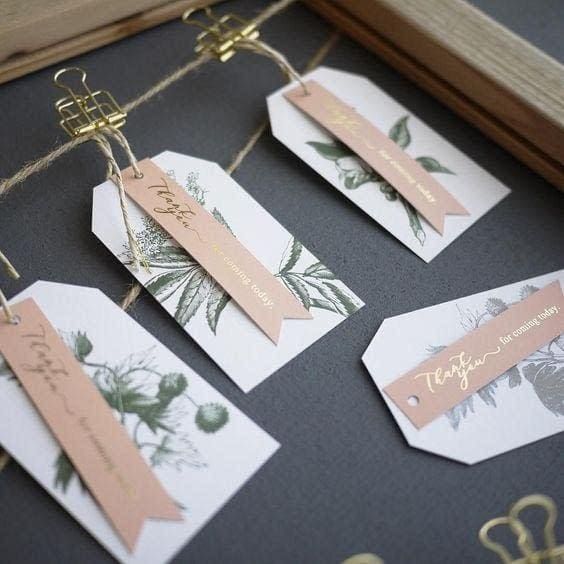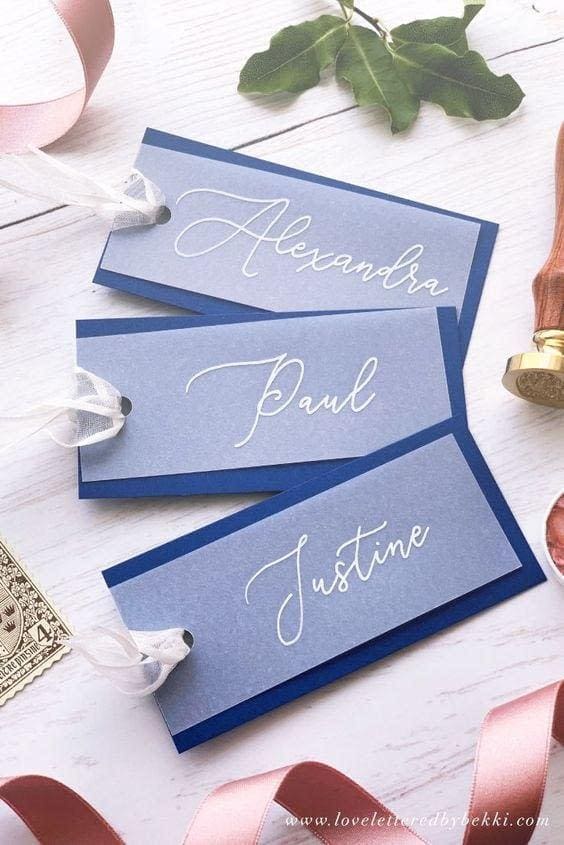 Layering different materials on a gift tag can make your gifts look dazzling. You would require at least 2 types of paper material and an interest for simple crafting work. But the effort is worth it. Use materials with different textures, motifs and colours to create a 3-dimensional effect. Any one particular gift tag can take on varying impressions with different layering techniques.
For example, using translucent white glassine or rice paper on a bold background can create a sophisticated and romantic look. Or use a small strip on a larger gift tag to create the effect of dangling charms. Breathe life to a plain gift tag by pairing it with a bright colourful card placed beneath it.
4. Embellishments On Gift Tags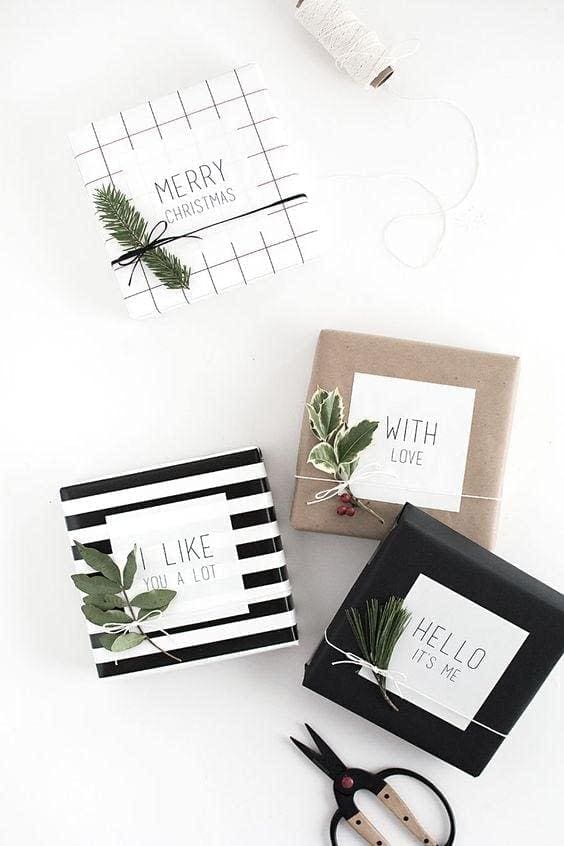 If you don't have a fancy looking gift tag to adorn your gift, not to worry. Take a blank piece of paper and simply write your sentiments on it. If your handwriting is not great, then just type and print out your message. Cut out the paper into any shape and size to fit your gift. Pick out a blade of grass or a twig with leaves from outside and stick it onto the gift tag with glue or tape.
It would be better still if you can use a small flower. We prefer to use dried botanicals as tag embellishments so they don't look wilted and discoloured after some time. Fake ones will work just as wonderfully to give a look of everlasting freshness.
5. Upside Down Lollipop Sticks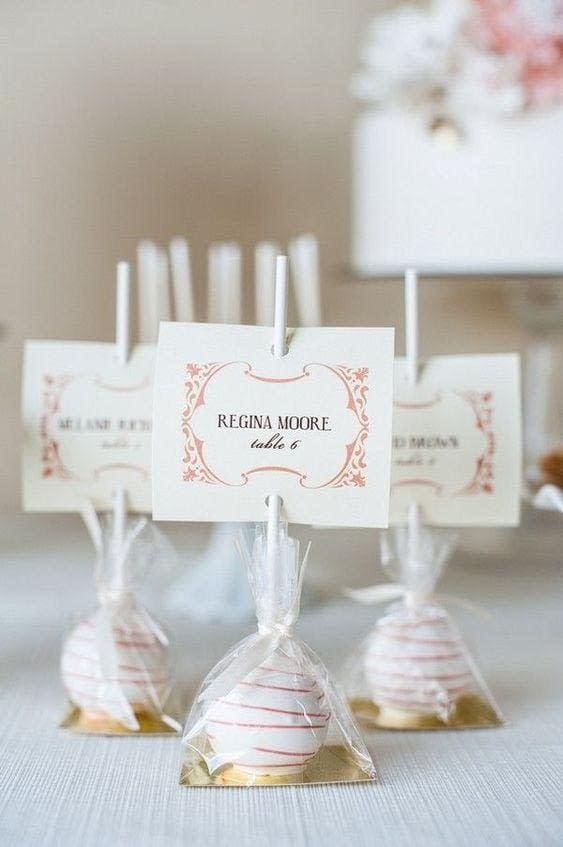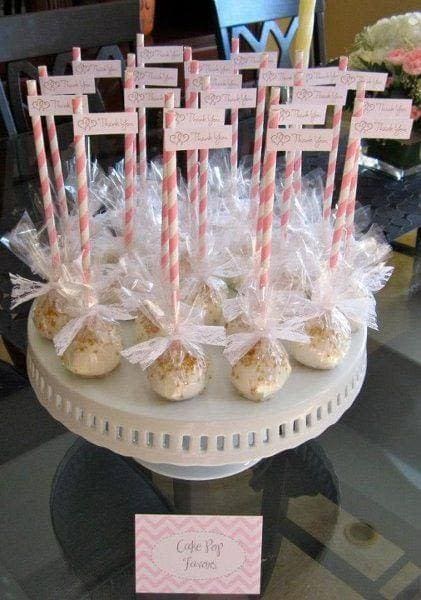 This is another clever way to dress up small gifts and make them look grand. Your budget for party or wedding favours does not have to break the bank. Place round lollipops on sticks upside down in a small packaging with a flat base. Punch holes at the top and the bottom of the gift tag and slide the stick through the tag. The result is super attractive for a small feat of crafting.
The flat base ensures that the lollipop stays upright and does not roll around. If you want to go the extra mile, get professionally-made round chocolate truffles. Just tell your baker or chocolatier to add a lollipop stick or long straw into each truffle.
6. Hang It With a Laundry Peg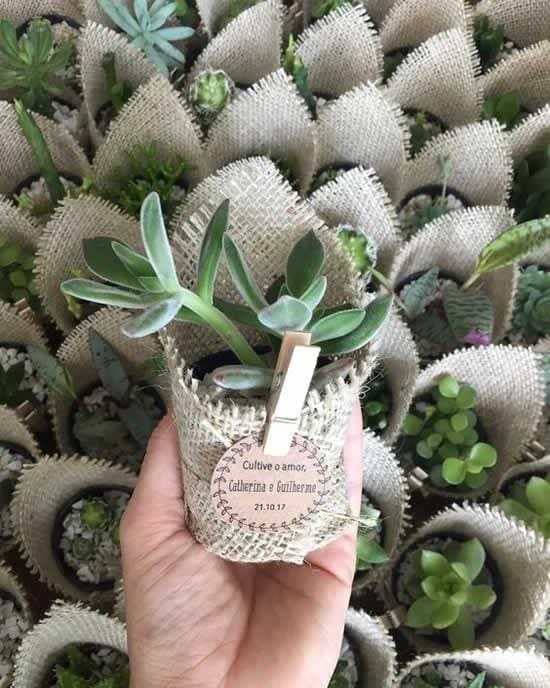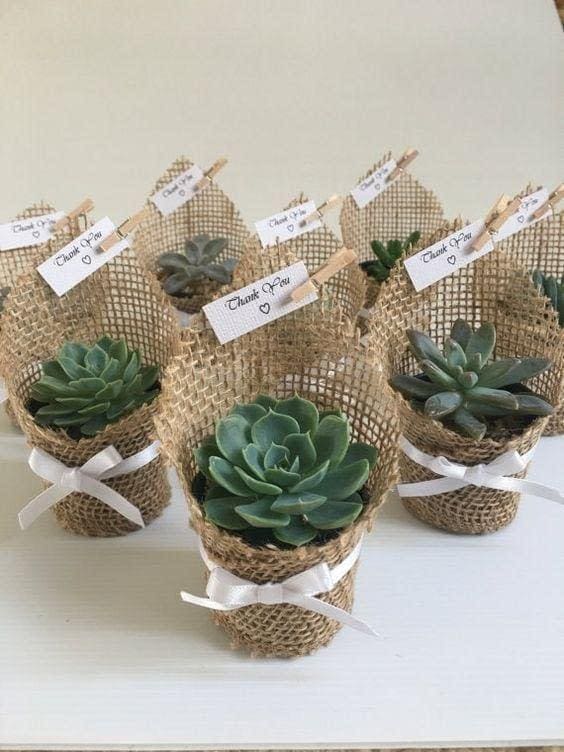 Wooden laundry pegs are a lovely accompaniment to gift tags. They look rustic and enhances the country garden style. So swap those tie ribbons for wooden laundry pegs to hang your gift tags. Make sure to test every peg before using them to make sure the grip is strong. Just place a piece of paper between the grips and flap it around.
If the paper does not fly off, then that peg is able do its job. We love using wooden laundry pegs to hang gift tags on mini potted plants. Wrap the pots with burlap for a more homely presentation as if you've just taken the pots off the garden yourself.
7. Don't Hang Them, Stick Them On Instead
Gift tags come in all shapes, designs and colours. Originally, gift tags are used solely as a means to convey a message with a gift. They can be regarded as the mini versions of greeting cards and are very convenient at carrying brief sentiments. But now, gift tags are increasingly used as decorative items on gifts and favors.
The really artful ones can be used as design panels to complement the gift style theme. To do this, cover the string hole of the gift tag with an embellishment, for example a shape cutout, rhinestone, ribbon, leaf or flower. Use tape or glue to attach the gift tag onto the front or top of the gift. Place it at a slight angle to get that stylish tilt.
8. The Rope Act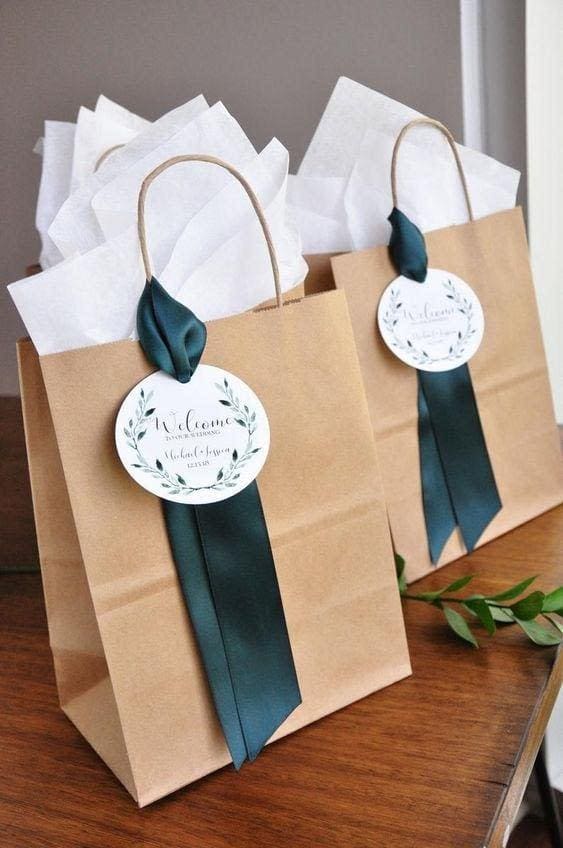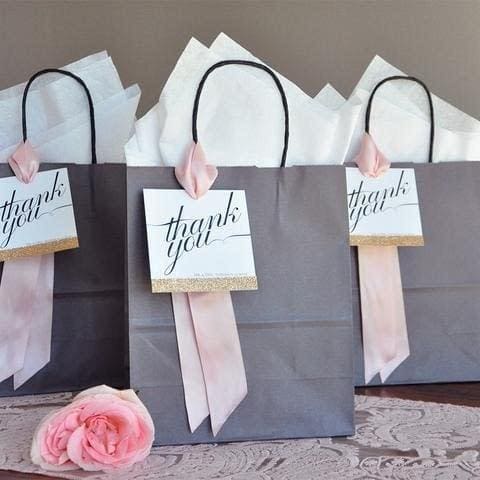 Just because gift tag holes are really tiny, it doesn't mean we need to use narrow ribbons to hang them. Here, we love how broad ribbons are used to suspend the gift tags. There is no tying involved. The gift tags are pretty much locked in and will not slide down because the broad ribbons behave like stoppers. They certainly uplift the sophistication level of plain gift bags.
Guests will feel like they have won the grand prize. Definitely the winner here and worth a try if you are thinking of giving away your favors in gift bags.
9. Say It With Sealing Wax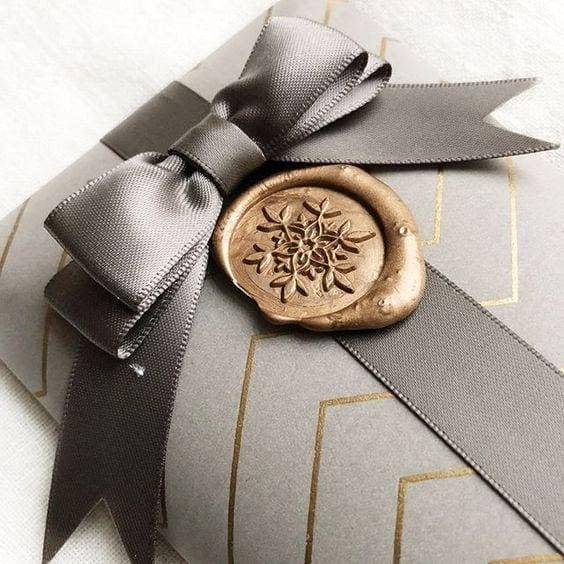 Sentiments need not be stated in words. Illustrations or symbols can be used to carry meaningful messages. Instead of gift tags, use sealing wax to convey these heartfelt symbols. Your gifts will bear a regal aura and a style from the Middle Ages. Get sealing wax from any arts and crafts store.
10. Play Dress Up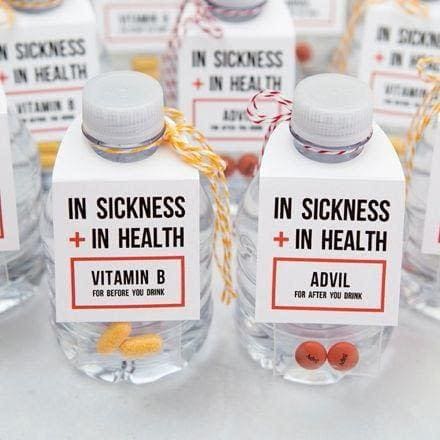 This bib-style gift tags are super cute for giving away bottled drinks. These bottle tags look like they have been professionally printed. But actually they are really simple to DIY. Download the template here, cut them out with the humble pair of scissors and they are ready to be used. Have fun!