We love having dinner parties and making the dining table look gorgeous. There's that satisfaction when we do something to make people feel welcome. And we simply love sharing food. The more people enjoy our dinner parties the more we feel motivated to hold more of them. Yes, it may take a considerable amount of effort to organise a dinner party, even a casual one.
Without a doubt, food (types and portions) takes centrestage in the planning process. These days, however, food is so scalable. What cannot be whipped up in our kitchens can easily be ordered and delivered. But take a look at your dining table though. For a lot of us, it has been turned into an office or homework space. Ok, maybe all these stationery can easily be tidied away.
We are then left with a gaping table staring back at us. Where do we start? The good news is you do not need to be a professional interior decorator to set up a table for a dinner party. And a dinner party table does not need to look like it came off a Michelin Star restaurant. Just make sure you're not having the Queen of England over to your party.
Here are some tips on how you can transform your dining table into a gastronomic space.
1. Forget About The Colour Scheme & Theme
We believe that you need to work with what you have. Being a proud owner of matching premium dinnerware should not be the prerequisite to having a dinner party. In fact, a riot of colours can help create a festive mood. We do not condone spending a fortune on matching pieces just to have a casual dinner party. Besides, mismatched schemes on the dining table will eventually be drowned out by the colour of the food.
But if you insist on ironing out the dining theme, here is how you can do so:
Generally identify the main or dominant colours and group them.
Use napkins, fresh flowers and table decorations that match the main colours.
Use a white, motif-free table cloth to neutralise the colour mismatch.
The same goes for the shape and size of your dinnerware. It is more important that you have sufficient pieces for the number of guests. Other that that, have fun and turn each piece into fodder for conversation. Tell people about the history behind each plate or fork and add drama to the meal.
2. Seated Dinner or Buffet
If you desire an informal table setting, a buffet sounds ideal. This way you can separate the food serving area from the eating area. You still do need to get your dinnerware and their placements in order. Remove all packaging wrappers before you present them to your guests. Since the dinnerware are not laid out individually, disposable ones are usually the norm at buffet parties. Just make sure the plates and cups are stacked neatly.
We do, however, strongly suggest to place loose knick knacks such as cutlery, sauces, toothpicks and napkins in holders, organisers or caddies. Here are some examples:
These items are inexpensive and serve a very practical purpose. They keep things tidy. Guests are also compelled to use sauces only at their stations or ensure they are duly returned to their places for the next person to use. If you don't want guests to wander around your home with their food, then prepare a designated area for food consumption.
3. Plates and Cutlery
Depending on the food you are serving, make sure the right dinnerware is available. Dinner plates are appropriate for mains but may be too large for cake slices. Smaller plates may be more suitable to hold bite-size food or dessert. Bowls are a must for soups and chopsticks for an Asian experience. It's alright if you don't own a full suite of specialised cutlery. Just make sure you have enough dinnerware in case guests ask for clean, fresh ones when they switch from savoury to sweet, or from water to wine.
We think that getting a drinks dispenser (the ones with a spigot or tap) is a very good investment indeed. This way guests can help to a free flow of refills. Drinks dispensers are great if you are serving large quantities of fruit punches, cordial mixes or water.
If you want your guests to dish out their own food, then you will need serving platters, trays and bowls to present all the food on the table. You will also need to provide serving utensils such serving forks & spoons, and tongs. It's not a good idea and even unhygienic to use dining cutlery for eating to fetch food from common platters onto the plate. Table-worthy oven trays just hot out of the oven can go straight to the dining table.
Please warn guests to avoid and be mindful of hot surfaces. Place hot utensils and crockery on thermal protection mats to avert damage on table surfaces.
4. Positioning of Crockery & Cutlery
A casual dinner party still needs some attention to the positioning of dinnerware on the table. We are not talking about being posh here. This is more about showing politeness and being respectful to our guests. A well-organised dinner table immediately takes centrestage in the guests' perspectives. Guests will associate an enticing dinner table with delicious food. In turn, heightened appetites and boosted adrenaline makes for a livelier interaction amongst everyone.
A casual table setting is laid back but elegant. A neat and beautiful ambience is always relaxing. Multiple courses and appetisers can usually be done away with. All the food is pretty much laid out on the table. So the dinnerware is expected to be quite simple and sparse. Except for dessert, it's alright to use the same cutlery for various dishes. Go ahead and exclude charger plates to keep the table setting light and unpretentious. Use a placemat instead both decoratively and to catch spills.
Set Up A Casual Table
Cover the table with tablecloth.
Place placemats on the table for each guest.
Set the dinner plate preferably centralised with respect to the seat.
Place the dinner fork on the left of the dinner plate.
Place the dinner knife or spoon on the right of the dinner plate. It's vital to plan what food is being served. A soup spoon must be present for broths and a dinner spoon should be present for spaghetti or linguine.
The dessert spoon is positioned at the top of the dinner plate.
The water and wine glasses are set side-by-side either above the dessert spoon or at the top right side of the dinner plate.
The napkin or serviette can be placed beneath the fork or on the dinner plate. A square or rectangular folded napkin will do. But feel free to show off fancier folds for the added drama.
If you prefer to use charger plates, make sure they are placed beneath the dinner plate. A charger plate is removed when guests have finished the main entree and the meal in general. The guests are now ready for dessert. An ensemble with charger plates is pretty much like an informal table setting with a few finer touches.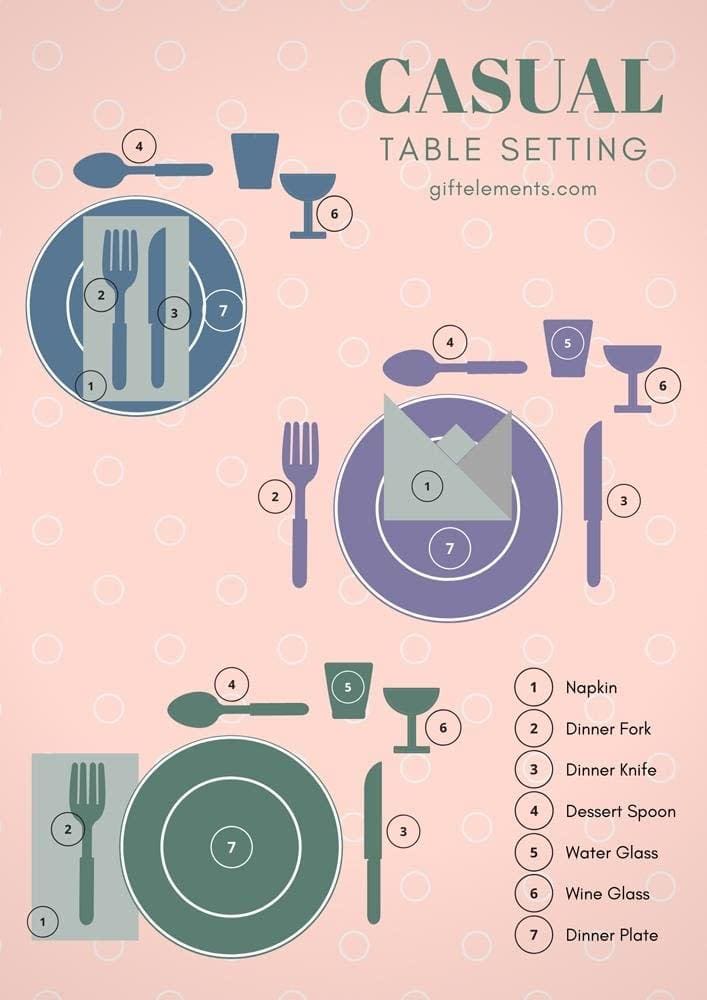 5. Table Decorations
Table decorations serve three purposes. Firstly, having decorations help to freshen up the tablescape. Secondly, decorations can serve as space fillers if you are placing just a few dishes on the table or if you are not serving them out at all. For example, some hosts prefer to plate out the food for individual guests. Thirdly, table decorations are great conversation starters. There are so many ways to whip up a welcoming ambience at a casual dinner party.
Here is a list of them that you can easily grab from a local store and keep them readily available at home.
Candles or tealights
Table mats and linen
Patterned napkins or serviettes
Fake flowers or fake plant centrepieces
Glass pebble centrepieces
Table runner
Fruit basket
Bread basket
Potpourri jar or bowl
Statuettes
We don't recommend using everything in this list all at once. Mix and match up to a maximum of three types of decorative items. Place them around the table and amongst the dishes to immediately add a dash of chic to your dinner party. When not in use, stash them away in a labelled box. This way a dinner party with friends can always be organised at a moment's notice and without hassle.