Planning a wedding can be expensive, no doubt! However, it is possible to reduce your wedding expenses by cutting costs here and there. Take for instance, your wedding invitation. You can save yourself a good portion of your wedding budget by designing and printing your own wedding invitation cards. Sure, this might take a little more effort on your part, but you get to customise in ways that you may not get if you pick from a set of pre-made wedding invitation card designs. Plus, the cost paper and printing small quantities of invitation cards can be quite expensive. Of course, you may bring the expense of printing your own wedding invitation card down by using your home printer to do the job. This guide tells you everything about printing your DIY wedding invitation.
Things to Consider When Choosing to Go DIY for Your Wedding Invitations
1. Should you get a designer still, or pick from a downloadable template online?
You can choose to use a downloadable template for your wedding card or hire a designer to create your wedding invitation from scratch. While the former is the least expensive option, your ability to manipulate the font and colour of your wedding invite may be limited. You could also get a designer to make these changes for you. If you have some design skills, the template can be uploaded on online design sites such as Canva or Adobe Spark. These sites provide text editing in many font options as well as graphics. Canva has a sizeable collection of romantic cursive wedding fonts. Having knowledge in Photoshop is of course an even better advantage with more options such as colour change available.
2. Picking the right theme for your wedding invitation that matches your wedding style
You will most likely already have a wedding theme ready for your big day. Consider looking at different styles of wedding invitation templates available online and pick the one that perfectly fits the event style you are planning. Light coloured and minimalist templates with ample white space are the easiest to print at home. They are also elegant, increasingly popular and will go well with any wedding theme. Searching for the right wedding invitation card template may be difficult in this case. A designer could certainly help to draw out the graphics that match your wedding theme. Another way is to design a wedding invitation card with a photographic backdrop. Take a nice photo composed of the decorative elements that will be used on your wedding day. Make sure you create ample space on the photograph where your text will be placed. For example, the decorative elements could be arranged elliptically on a piece of white paper or rustic wooden board.
3. Review the cost of your printing material
Will you be printing out your wedding invitation on paper, acrylic, wood or any other material? Printing on materials other than paper, can be extremely costly and not advisable if you are on a budget. The easiest and most convenient option, of course, is to print out your wedding invitation on paper. You can use your humble home printer to do this. Acrylic is a clear and hard plastic material usually about 2mm to 3mm thickness. Wedding invitations printed on transparent acrylic look magical and enrapturing. But acrylic, like all plastics, poses an environmental concern. Firstly, it is a carbon-based material. Secondly, it is not biodegradable and hard to dispose. It is certainly not a recommended wedding invitation material for the environmentally-conscious couple. On the other hand, wood and paper materials can be sustainably sourced. However, wood printing would require laser embossing. This means hunting for the supplier or crafting firm that can help you to do this.
4. Will you be using die-cutting procedure?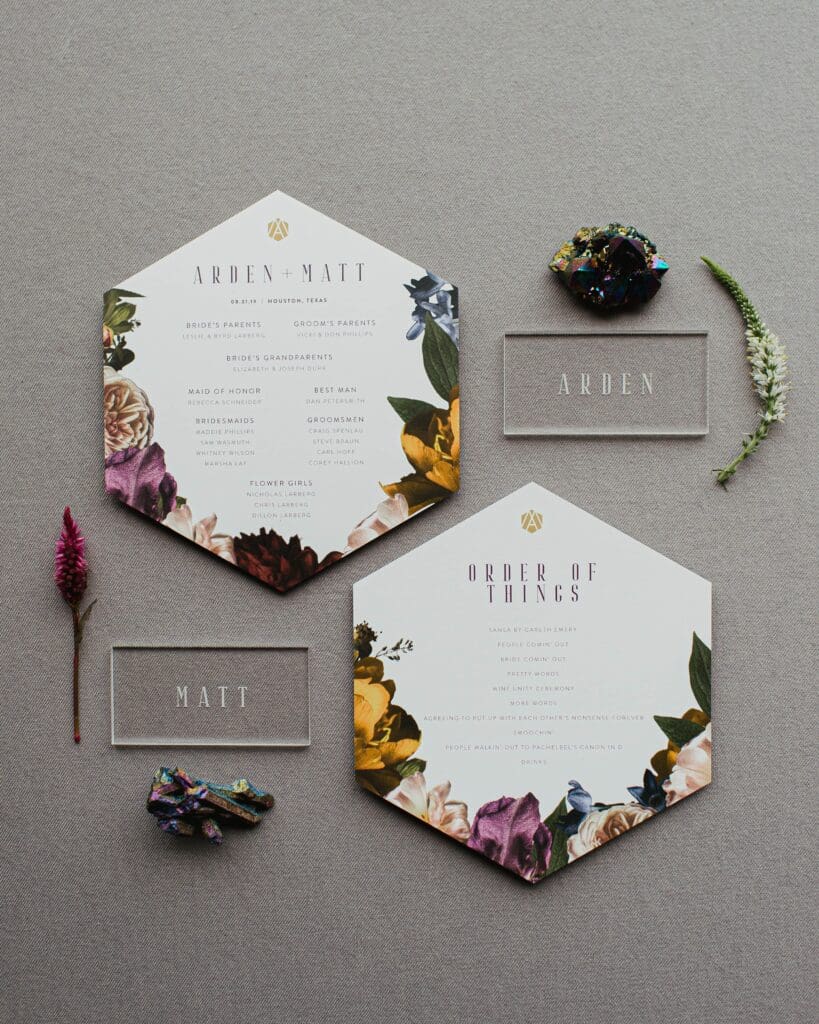 Wedding invitation cards do not need to be in the usual square or rectangular shapes. You can have fun with different shapes such as circular, bracket, ticket and tag to name a few. The shape of your wedding invitation card is a product of your imagination. However, trimming into these shapes requires die-cutting. Die-cutting uses specialised tools and moulds to render your wedding card base material to a certain shape or form. If you need a unique shape for your wedding card, for example, a heart, you need to ask the die-cutting supplier whether it has a heart-shaped mould in the size that you require. Creating a mould specifically for one die-cutting job can be prohibitively expensive. It's better to use the shape moulds that the supplier already has, instead of creating a new one just for you. Alternatively, if you do not have too many invitation cards, simply draw the desired shape onto each card and cut them out manually with a pair of scissors. If you are good at crafting, you may want to consider getting a home cutting machine such as ScanNCut or CriCut, that can cost anywhere from $400 to $900.
5. Deciding upon your suppliers
Going DIY with your wedding invitation cards means that you need to take care of supply chains on your own instead of getting help from a wedding organiser. You will need to personally identify and keep up with the designers, paper providers, envelope suppliers and printers above other tasks on your plate. Negotiate a fair price from your suppliers when assigning them the job of printing your wedding invitation cards in bulk. It is always a good idea to receive quotations for the tasks first before engaging any supplier. This provides you with a better understanding of the expenses you will incur.
6. Will you pick offline or online vendors?
We do everything online nowadays, so it only seems natural for us to choose doing business with vendors offering their services on the web. However, the wedding industry still thrives offline. Engaging with vendors and procuring materials for weddings offline may allow you to view samples. This enables better decision-making before purchasing and prevents the delays of product returns. Some vendors provide samples in different variants. On the other hand, online vendors are fuss-free and have more design options. Online vendors are more likely to provide end-to-end services from design, customisation to shipping. Samples can usually offered at a nominal price and are yours to keep. If you need seamless products and services that can be purchased quickly and in the comfort of your home, then online vendors can help you better.
7. Scheduling ahead
DIY wedding invitation cards may give you more control over the production processes. But, it is not always the case. Count back the weeks from your wedding and set at least eight weeks from your wedding date to send your invitations out. What this means is, you will need to plan for ample time for designing and printing your wedding invitations. Arrange for at least 10% extra supplies, and be prepared to face possible hiccups especially with printing quality and text clarity.
8. Think about the wordings you will use
Wedding card templates downloaded from the Internet may come with or without words on them. Picking out the words to include on your wedding invitation might not be as much fun as choosing the paper, design or the colour scheme. But it is incredibly crucial to be fully invested in the choice of words to set the tone for what guests are to expect. For starters, your wedding invitation is often the first form of communication that your guests receive about your wedding. It represents a message from the bride, groom and their families to be conveyed with the right level of formality and humility.
9. Be aware of the technicalities
When designing and printing your own wedding invitation cards, acquaint yourself with technicalities, such as, design resolution and dimension, bleed allowance for cutting, RGB or CMYK colours and contrast. A disproportionate design or dimension may look stretched out on the final invitation card. Some colours or fonts appear faint or faded after printing. There is bound to be differences between the design as seen on-screen and when printed out. You may end up feeling disappointed that your artwork may not be presented in its best possible light. Plus, be aware that some printers charge fees based on the number of colours present on your design. That is why it is vital to assess the capabilities of your suppliers to ensure that your wedding card looks the way you intended when printed.
10. Whether you will include enclosure cards
It is not possible to always include all information about a wedding on your wedding invitation card itself. In such cases, enclosure cards help to disseminate additional wedding-related information for the convenience of your guests.
11. Choice of envelope
You will need envelopes to hold your carefully-constructed wedding invitation cards. Choose envelopes which are a little larger than the size of your invitation cards, so they fit in well. You can also opt for envelope liners to add more appeal to your wedding invitations. Metallic envelopes with pearly finishes are invariably more expensive than plain white envelopes. If you have additional room in your budget, the invitation design theme may also be printed onto the envelope and liner for a more coordinated style.
12. How to easily assemble invitation stationery
You do not want to waste precious time assembling your wedding invitations and enclosure cards into their envelopes all on your own. There are usually many other aspects of your wedding to work on urgently. Cut down on assembly time by delegating this task to your bridesmaids, close friends and family members.
Create Wedding Invitation Online by Using the Simple Tips Listed Above
You don't always need to buy wedding invitation cards. You can use an online wedding invitation maker to create your own wedding invitations from scratch. DIY wedding invitations may or may not help with staying on budget. In this case, planning is key and knowing your suppliers well. Other than that, have fun doing it and add in your own quirks into your wedding invitation cards.