Wall art in interior design is like an icing on the cake. You don't know it's important unless you have tasted it! Walls are an integral part of interior design that most of the people tend to go wrong with. How many times have you entered a room and felt a glitch, like something is not right? Most of the time, the reason for this discomfort is a piece of missing wall art design. A big wall with solid colour acts like a black hole that stares back at you with a nasty look! On the other hand, a sassy wall art design will instantly glam up the style quotient of your house.
Most people think they have to be an art guru or ridiculously rich to deck up their walls. But this thinking is absolutely untrue! These days the market is overloaded with cool and affordable wall art designs. You can order wall art online, create wall art online, or just DIY one for your room. Just remember, a blank wall is a missed opportunity!
What makes wall art an integral element of interior design?
We cannot emphasise enough on how a piece of art can transform the entire look of your space. But if you are not convinced yet, these are some of the factors that will make you consider to use cool wall art designs as part of your interior decor.
1. Wall art Pulls a Space Together
Wall art helps to bring space together cohesively. It is like a finishing touch that adds charm to a room. If you think there are missing gaps in the interior space that is probably because of empty walls. A great piece of art will help you maintain a colour balance, indulge in texture play, and will create harmony inside the room. To do this successfully, the selected wall art should fit the style and atmosphere of the room. The function it plays must be considered carefully, for example, to bring balance, introduce proportion, inject colour or add space continuity.
It is also vital to take stock of the space that is available for the wall art and the art size to use. Take note of the wall construction to ensure it is able to support heavy wall art. All backgrounds can either boost or drown out the wall art. If you have a dark-coloured wall, it would be a good idea to hang light-coloured wall art. On the other hand, wall art on textured or patterned walls may create an overly busy appearance.
2. Adds Colour to the Palette
If you think your room looks dull and drab, try introducing a wall art design with a rush of colours and it will immediately brighten up your room! If you want to break the monotony of an achromatic room, wall art is a hassle-free way to bring in a pop of colour, different patterns and interesting textures. This way you can always change the colour palette of the room at any time and keep diversifying your interior style.
3. Acts as a Focal Point
Every marvellous interior design has a cynosure that draws attention. And most of the time this instant attraction is attained by a dashing framed wall art design. A well-curated and strategically placed wall art will lead eyes to look around the room to admire all the fine details. A magnificent piece of wall art can also become a conversation starter. There are some points to consider when turning a piece of wall art into a focal point.
Firstly, it should create contrast from the rest of the surrounding. The art work does not necessarily need to contain bright colours. But as a wall hanging, it should be able to hold its own ground and snatch attention very quickly. Secondly, size does matter. A large piece of wall art would look more obvious than a small one. Thirdly, the wall art should be something that disturbs the balance in the room to create emphasis. Lastly, make sure there is sufficient negative space around the wall art to lift its presence in the room.
4. Introduces Texture and Pattern
A lot of people misunderstand wall art as being a 2D painting filled with colours. But a wall art design has much more to offer. You can incorporate a decorative mirror or style rattan baskets on the walls, the possibilities are endless! Wall art is a great way to introduce unique textures and finishes in your space. Textures and patterns can radically alter the atmosphere in a room.
5. Jazz Things Up
Eclectic wall art looks playful and sets up the right mood. It has its idiosyncratic way to spice things up in a room. This is a great opportunity to show off your creative side and get adventurous with style experimentation for your interior space. Just be careful not to go off-beat too much. Every element must still appear tasteful and sits harmoniously with the rest of the furnishings.
Reasons why wall art is important as an element of interior design
There are 4 cogent reasons that make wall art an important element of interior design.
1. Philosophy
Choosing a wall art design is like getting a tattoo done. It speaks volumes about you and your style. Every framed wall art design represents the owner's sense of innovation and his belief in a beautiful piece of art.
2. Individuality
A house with meticulously placed wall art undeniably looks better than a bare house. Wall arts add personality and charm to any space.
3. Aesthetic
An elegant piece of art has the ability to transform a low-budget house into a stylish abode.
4. Wow Factor
As a thumb rule in interior design, it is necessary to have that focal point in every room that draws instant attention and provides the viewer with what to expect.
How to choose wall art that fits with the interior?
Now that we have established the fact that wall art is an intrinsic part of the interiors, it is time to learn how to choose the right wall art design for your room.
While deciding wall art, always make sure it follows the style of your interior. For example, a modern art painting may look out of place within a classical interior design. An amazing way to deck up space is by taking inspiration from the wall art design and translating it to the room. For instance, if you choose a piece of art you absolutely love, try to borrow its colours and introduce them into the room space. If the painting has yellow splashes, you can choose a yellow armchair to bring the colour into the design. The framed wall art design could very well be influencing your interior design instead of the other way round.
The next important factor to know when you buy wall art online is to check its size. Measure the wall where it will be displayed and be sure of the size that will adorn the wall beautifully. An extra-large wall painting inside a small room can end up looking overwhelming, whereas a small piece of art can get dwarfed inside a big room. If you are dealing with a big room, try to buy art clusters and arrange them thematically.
Where to place wall art in an interior space?
Living Room Wall Art
A living room is a space where you spend most of your time and would be hosting a lot of friends. This is where you have to be presentable, upbeat, and welcoming. Splurging on an oversized, classy art piece for your living room can easily make your interior space a winner.
If you want to add an emotional touch, you can have a gallery wall with personal pictures telling a beautiful story.
Fireplace mantels are a great place to put a fancy framed wall art design or a rustic mirror piece that will steal the show.
You can also arrange intricately painted ceramic plates near the dining to pep up the look.
Bedroom Wall Art
The bedroom is a calm and soothing space, hence, opting for a wall art design that increases tranquillity inside the room is of utmost importance. You can try to introduce textures here by adding weaved art pieces made of macramé or even a dream catcher.
If you are a fan of textiles, you can showcase dainty Italian tapestries or patterned Turkish fabrics at the back of your bed.
Bathroom Wall Art
Most of the people miss including bathroom décor in their interior design vision. Bathrooms can be a great place to install digital paintings. These days you can create wall art online, maybe with a personalised quote or funny graphics that could be put up in the bathroom.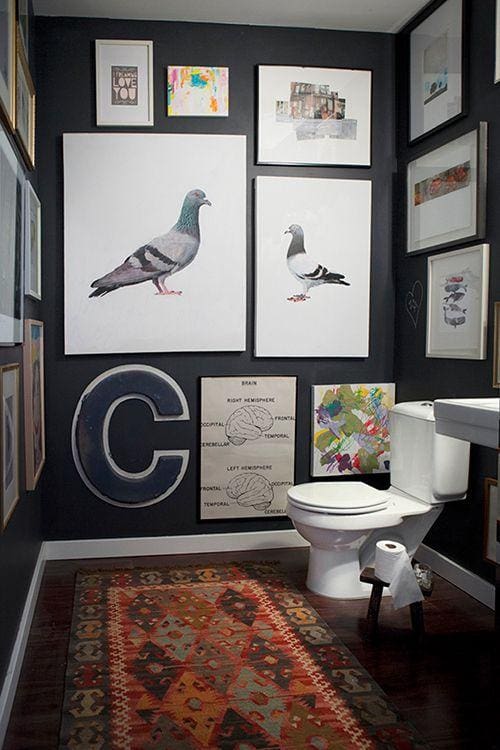 Deciding a wall art for your interior is literally a cakewalk, and it can instantly transform the entire look of your house!