Gift tags and sticker labels are must-haves at weddings to personalise wedding favors and send greetings to guests. We have produced a range of designs for gift tags and sticker labels with the wedding theme in mind. These designs are also great for gifting on other occasions such as birthdays, Mother's Day, bridal showers and any other celebrations.
The gift tags and sticker labels come in matching designs. This gives you the freedom to shape your favors the way you like it. Personalise it with a gift tag or sticker label based on the style you desire.
Romantic Bouquet Thank You Sticker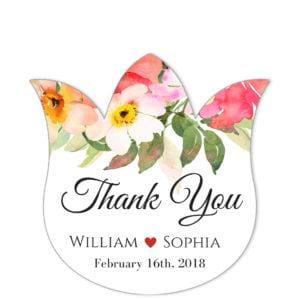 This is a classic label design of a flower bouquet at the top of the label. The Romantic Bouquet Thank You sticker is the perfect favor decoration or gift seal for weddings and engagements. The bouquet design depicts a clutch of sweet briar roses in pink and red covering the top of the sticker.
This sticker label design comes in 6 shapes. We think this flower die-cut is unique and will brighten up any plain favor box. Pink flowers are very popular at weddings. So this sticker label or gift tag makes the perfect accompaniment.
Get a matching gift tag with this design here.
Leaf Crown Thank You Sticker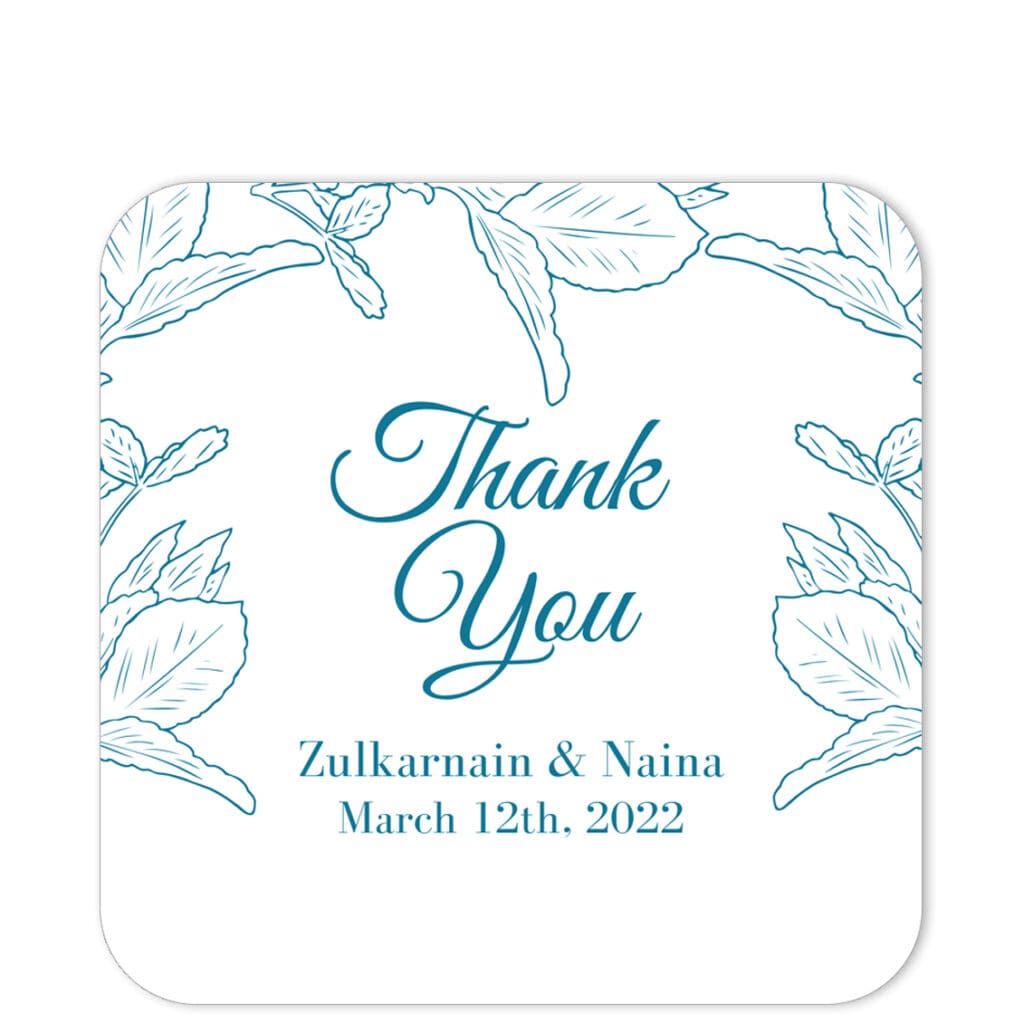 The Leaf Crown Thank You sticker depicts a crown of leaves running through the top and sides of the sticker. When personalising, the little heart in between the names can be moved around.
This monochromatic design depicts botanicals in deep green outline colour. It has a more serious and sophisticated feel to it. Despite the deep colour, the design is in a way minimalist and leaps at you in a sensuous way.
Love Birds Thank You Sticker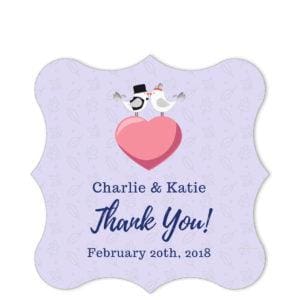 The Love Birds Thank You sticker depicts two turtle doves smooching on top of a pink heart at the top centre of the sticker. The design is so simple, it's almost down-to-earth. You could picture two young people kissing out of pure, innocent love.
The big pink heart just shouts out "stand on me and love conquers all". It's the perfect prayer for all brides and grooms, husbands and wives, families and everyone in all forms of relationship. The sticker comes in 5 colours ranging from pastels to deeper hues.
This design can be produced in 5 die-cut shapes. Change the text fonts and colours to create your own style.